Today we want to introduce you to Emma, an AirBnB Superhost who's a massive advocate for environmental tourism. Her stunning AirBnb, 'The Barn at Lees,' in the Shropshire countryside, has an annex and a completely off-grid yurt that guests can book into.
Here they can enjoy Emma's complete commitment to eco-hosting, from the wildlife-friendly pond to the recycling policy and, drum roll, the composting of food waste using Subpod! The Barn holds itself completely accountable to ecotourism principles, and has been recognised with a 'Gold' Green Tourism Award as a result.
We love that the annex has been renovated using only locally sourced upcycled or recycled materials. We love how the surrounding land has been rewilded to promote biodiversity. We love that nature is at the forefront of everything, from the installed bat boxes to the rainwater harvester. We also love that Emma chose Subpod to take care of the food waste produced at her AirBnb venue.
Emma kindly fitted in some time to answer some of our questions about sustainability in tourism, what inspires and motivates her and why she ended up choosing Subpod. Have a read of what she replied, below:
What inspired you to create The Barn at Lees Farm?
The Barn at Lees Farm came about through necessity really! Our situation was changing and we had the opportunity to convert a derelict barn into accommodation, for myself and my children. It turned out to be too big for us, so we decided to separate off a small amount of the barn and create a holiday let.
Further down the line we were given the opportunity to have a yurt from a local yurt maker. They source their materials from the local area, like the woodlands surrounding the barn. And that's really why we started to do it.
Why is it important for The Barn at Lees Farm to educate its guests on sustainability?
I was very lucky when I started to convert the barn into the house and holiday accommodation that I could also start my sustainability journey. I installed rainwater harvesters and underfloor heating with an air source heat pump, and really started to create as sustainable an environment as I could.
This also came with financial benefits. As I was continuing my journey, I decided it would be a good idea to share what I do with our guests. Hopefully this would encourage a respect for the local environment, and give them ideas to take home.
It's not really about doing really big things. It's more about doing lots of small things really well, and just making those changes. Changes like starting to compost, and telling our guests why I compost. Changes like making it easy for them to recycle. Using refillable cleaning fluids and shampoos. Shopping locally and promoting local things. All of that also supports the local community, which is something that's really important to me.
Why did you end up choosing Subpod?
The journey towards choosing Subpod began with having traditional compost heaps and big compost bins. We're quite lucky because the Local Council provides those here. I am in a rural location though, and I didn't want to encourage pests and rodents. We're surrounded by woodlands and fields so of course they're around us, I just didn't want to invite them into the garden!
I had looked at various wormeries and was worried they wouldn't be big enough for the annex, the yurt and our home. While looking I actually stumbled across Subpod on social media. I had been searching and the powers that be could see I had and so Subpod came up!
I did a bit of research and really like the idea of having raised garden beds. I have quite thick clay soil here and didn't want something that I was going to be digging in directly, although I know you can with Subpod.
I've put the Subpod in a raised bed between my accommodation, the annex and the yurt. It can be accessed by the guests should they want to, and I leave instructions for them in the accommodation. I also do a bit of sharing on social media about it.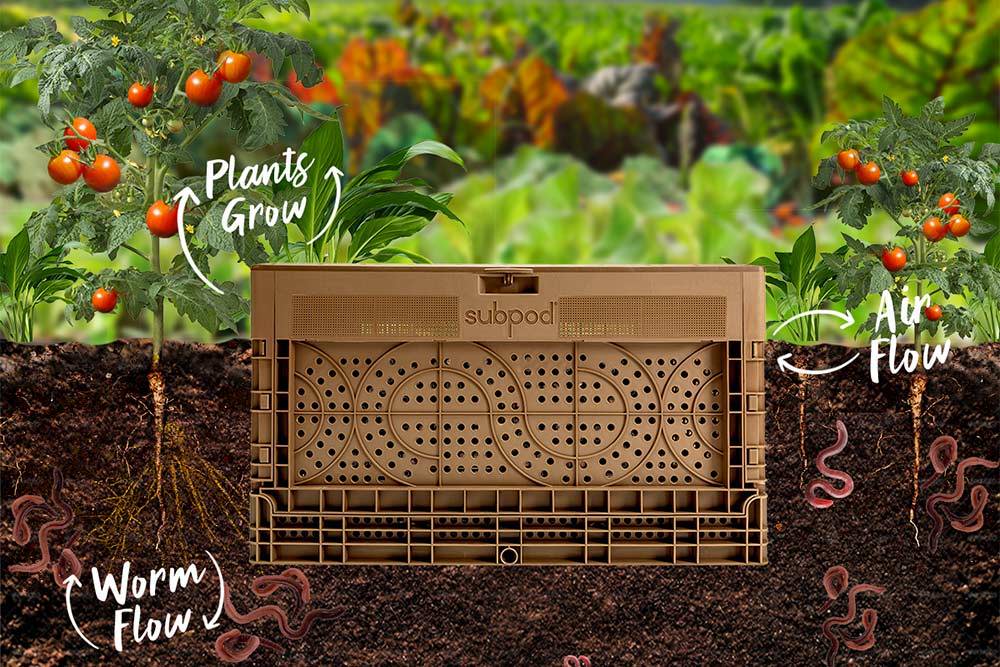 What's the feedback from your guests?  
So far the feedback has been really good. Some guests say no, thank you very much, I don't want that. They're normally city dwellers who like coming to the countryside, but don't want to be aerating worms when they get here!
Some have been really, really enthusiastic about it and have asked for a link to Subpod, which I've been really pleased with. It's been perfect for the three accommodations. Actually what it's done is help me save on my food and lower my family's food waste because I can see now exactly what I'm wasting.
I also think it helps the guests, who maybe turn up for a weekend with three bags from the supermarket. If they've got a food waste caddy then encouraging them to use it makes them think about their amount of food waste, both here and at their home.
Can you share about the AirBnb workshop you hosted?
I work on a sustainability subgroup for the Airbnb community board. I host a community group for the whole of Shropshire. We have over 1500 properties, and nearly 200 in the host club.
I was asked to do a sustainability talk last year, and again this year in April. I wanted to tell everybody about the Subpod! Some of them own flats, some of them are in house shares, some have their own accommodation, and I just thought it was something that we could doas a community.
From that, I was then asked to do a webinar for Airbnb a couple of weeks ago. I talked about the Subpod and I talked about the best thing I've ever received in the post, which is my wiggly worms! I tried to get people to think about Subpod, not only if they've got a house, but also if they have a flat then they can use the brilliant Modbeds! I know that a couple of people have already ordered.
From there, I'm really pleased to say that AirBnb now has a partnership with Subpod for all of our hosts across the UK. I just think it's a really great partnership. It will really encourage hosts to be a little more sustainable and environmentally friendly and look at their food waste. You also get this amazing compost! I haven't actually managed to fill my Subpod yet on one side, not even one side since March! All round I'm just really pleased with it.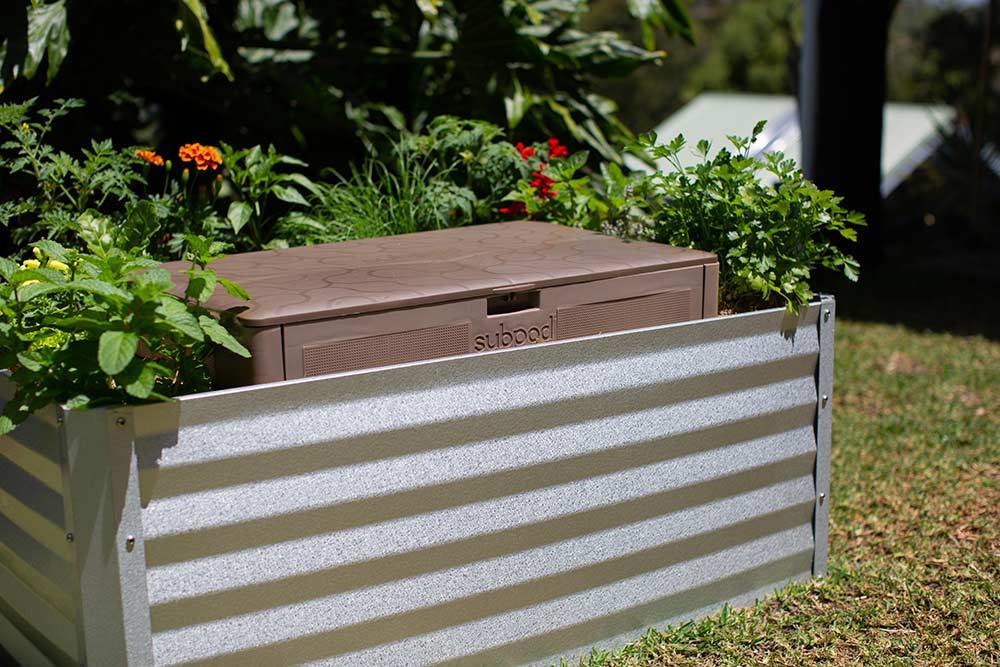 What advice would you give to an AirBnb host who is considering composting?
I would certainly encourage other AirBnb hosts to have a go with Subpod. I have my little Subpod station, and I put the instructions in my welcome back in the annex and the yurts. They each have a composting caddy they're able to fill. They can also feed the worms if they want to have a look at how the Subpod works.
Really, there's no mess, there's no smell and there are no pests. So it's not going to cause a problem that way. It's absolutely brilliant!
I'd really encourage Subpod to keep sharing what they do, and why they do it. And I keep encouraging other hosts to have a look at it. I've created some great pictures and images, using the fantastic media assets on the Subpod website. We'll just see how it goes really, but so far it's been absolutely excellent.
Get Your AirBnb Composting!
We hope you enjoyed those insights into eco-hosting and why Emma went with Subpod for her composting needs. If you have an AirBnb, why not consider reducing its carbon footprint and jumping on the composting train? Subpod is a smell-free, mess-free way of doing it that also looks great!
You're welcome to get in touch with us for more information, and why not have a browse of our Subpods below?
Want to install a Subpod in your AirBnb?
We have easy-to-use home compost systems for apartments, back gardens and more! Check them out: