A school garden project represents so much more than just homegrown vegetables! When it comes to a project learning opportunity that educates, entertains and engages your students, you'd be hard pressed to find something more suitable.
It's not just plants that grow, your students grow too! They learn valuable life skills such as how to look after the soil and plants and how to turn food waste into healthy soil. They start to understand where food comes from, and the cycle it goes through. They learn the importance of healthy vegetables and how they contribute to our own health. They also get the opportunity to experience working as a team toward a common goal.
These are all skills they can carry with them into other aspects of their lives.
Teamwork
A composting garden doesn't grow on its own. Different elements and team member skills have to come together for it to be successful. There is research to be done on what can be grown, what is needed to get started, and what resources are available on site at the school. A team has to be built to look after watering, mulching and weeding, and of course the joyful task of harvesting and using the produce.
Your students learn about how to care for something in the natural world. They work together to get the jobs done and can pass on the knowledge and experience to the next generation of school gardeners. Communication skills are developed, and everyone becomes team players as they strive towards common goals and enjoy the rewards. Camaraderie, togetherness and ultimately happiness are the outcomes!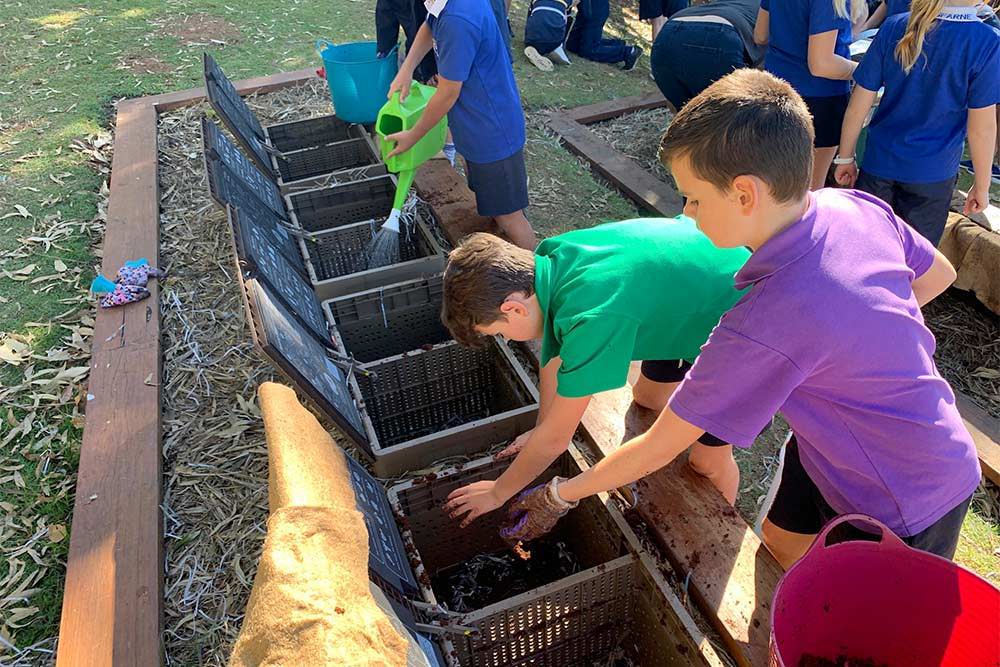 Healthy Bodies and Minds
Feed the soil, feed the earth. That's a Subpod mantra. But also… feed your body, feed your mind! With a garden composting project, you get delicious and nutritious home grown vegetables to be incorporated into the kids' diets. But there's more than that - there's Vitamin D from the sunshine they're exposed to; there's the exercise from lifting, bending and planting during a gardening session; there's the wholesome feeling of being part of a team and achieving something good together. All of this adds up to well-fed, healthy and engaged bodies and minds.
Being out and about in a garden allows students to really connect with nature and enjoy all the benefits associated with that.
An Example of a Successful School Composting Project
Lindisfarne Grammar is a school in Northern New South Wales that is big on sustainability.
This led them to setting up large school gardens incorporating a composting project a couple of years ago. They chose Subpod as their composting partner, ordering over 40 of our worm farm systems to be installed around the grounds of the school.
We want to share a video with you that shows the positive impact this setup has had at Lindisfarne. If your school wants to implement something similar, Subpod is here to help. We can even offer Zoom compost Q&A sessions to support you on your composting project journey!
Check out the video about Lindisfarne:
Get a School Garden Project Going
Are you convinced? Have we managed to guide your path towards setting up a composting and gardening project at your school this year? That's great news, and Subpod would definitely like to help you out with that!
For a start, why don't you check out our 'Subpod for Schools' page? There's a lot of information and testimonials there, plus a link to download our schools information pack. If you have further questions, you can always get in touch with our team at hello@subpod.com. If you'd like to directly contact our compost guru who works with schools, you can reach Kathryn at kathryn@subpod.com
We also recently collaborated with Kids Gardening in the US, one of the largest nonprofit educational gardening organisations, to create a free Compost Guide E-Book for educators. This is ideal for those who want to make a green change in their school, so please check it out!
Want to Start a School Composting Project?
Check out our easy to use worm farms.