March 8th, 2023 is International Women's Day, a day to celebrate women's achievements and take action for gender parity. This globally recognised occasion marks a day where everyone can truly make a difference for women, whether in families, communities, businesses or countries!
Hopping on over to the International Women's Day website and you'll see a number of missions designed to help promote a gender equal world this year. A number of those resonated with us at Subpod, particularly 'celebrate women forging change' and 'build workplaces where women thrive'. The Subpod women truly make a difference in our workplace, our industry and to the environment!
Today we want to take the opportunity to celebrate and show gratitude for the strong women in our team. They are leaders and champions and form a strong core to everything that is Subpod! We're going to share with you a bit of backstory to three Subpod legends who are completely allied to our success and story:
Kathryn is one of the original members of the Subpod team, and for a long time was the only woman here. Her gardening heritage stretches back to 1901, when her great grandfather was the curator of Kew Gardens in London! Her Belarusian grandmother also grew and cooked her own produce, so it's no wonder Kathryn's career has also trodden the garden path!
Living on a remote island in New Zealand where fresh veg was scarce introduced her to the basics of permaculture and fertility. Kathryn also lived off grid for three years in the Halawa Valley on the remote Hawaiian island of Molokai, where she embraced the traditional way of life of the local people. Fishing, harvesting Kukui nuts and growing Taro were daily events! Today, Kathryn is passionate and active in preserving and sharing the traditional Hawaiian culture.
Her professional background also includes business admin, hospitality and event management in the legal and educational realms. Kathryn has spent time running an edible landscaping business before and was also part of a Permaculture Education Centre.
She became a part of the Subpod team when her longtime friend Andrew, the Subpod inventor, asked her if Byron Bay would be a good base for a composting company. The idea of below ground vermicomposting completely blew her away! Mimicking nature right in your garden aligned with her permaculture passion and her traditional ways of thinking developed in Hawaii. She was on board from the start, helping source a base in Byron and then hand building Subpod stereotypes.
Today, Kathryn loves doing great things for the planet with Subpod. She works with passionate communities, schools and organisations to bring composting and sustainable practices into their community. At Subpod she combines her passion for growing things with sharing the teachings of a traditional culture to inspire people to do good things!
You can watch the video of the results of Kathryn's work at Lindisfarne Grammar School here, and read about her relationship with the Unilever Hive here. Thanks for being such an inspiration Kathryn!
Chloe is the Chief Operations Officer at Subpod - a rudder helping guide people, product, ideas and a whole lot more moving parts! Having grown up on a commune with her twin brother Saadi, who is CEO at Subpod, composting and gardening were massive parts of Chloe's childhood. With Subpod, it feels like her journey has done a 360 back to a space that's always been inside her.
Her journey to get here has been interesting, inspiring and bold, rooted in strength and self-aware decision making. Chloe left home at 16 and moved to Sydney to pursue her dreams of being an actor, and for nearly a decade she got by on her acting talents.
She did a stint at the Western Australia Academy of Performing Arts, gaining valuable insights into herself and the world during her time there. What really stood out for her is that it's impossible to teach someone how to do everything perfectly. What's important is to teach someone how to learn. If you approach situations with a willingness to learn, it takes the fear out of not knowing how to do it.  
After moving on from the bright lights of the acting arena, Chloe has been a copywriter, video editor, high school teacher and business owner. When this business closed down, lockdowns were in full swing and her path suddenly felt uncertain.
That's when Subpod came along, in the form of a phone call from Saadi!
Chloe jumped at the opportunity to be involved with the startup (see… no fear!) Starting out managing the digital systems and helping launch the Australian and UK sites, she moved into inventory management and from there to her COO role. She loves being involved with a brand that has a mission she believes in, a brand that returns her to her composting roots and has facilitated an explosion in her love for native plants!
Chloe's role is a busy one. Sometimes she can make 25 important decisions by the middle of the day, from determining shipping policy to choosing office chairs. That's startup life, and she loves that with Subpod she can step away from the spreadsheet haze and out into the garden to check on the worms and do some weeding… and it counts as professional development!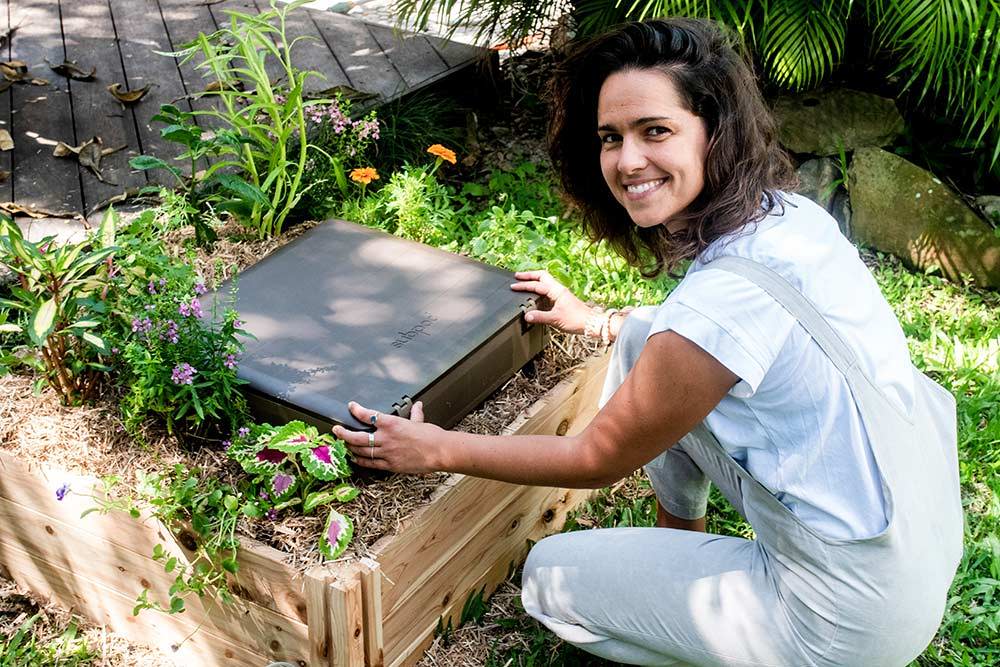 Talented architect Mar moved to Byron Bay in January 2020 from her homeland of Spain. She was initially intending to stay for a period of just seven months, but then something happened… Subpod happened!
Mar had put an advert on Facebook for her architect services, and Subpod Head of Product Development Phil Johnson hired her for an extension project on his house. Phil is a design guru too, and they worked together for a number of months on the project. They worked so well together Phil offered her a position in the product development department at Subpod!
Always one to accept a challenge, Mar accepted! It's been an amazing journey since then for Mar. She has learned huge amounts about design and production, working with China, Australian culture and, of course, composting!
Mar has an exceptional academic background in architecture. She graduated in April 2011 from Polytechnic University of Valencia, making it to the 'Final Project Contest' organised by the BIArch (Barcelona Institute of Architecture). She achieved a Certificate of recognition for her Degree in Architecture,as well as an Honours Diploma in recognition of her excellent student transcript.
After working for a big architectural firm in the Netherlands for three years, she moved into interior design and project management back in Spain. Then Australia called!
Mar loves being involved with finding innovative, trendy and sustainable solutions that do something great for the planet. She's a key part of the product development team now, working closely with engineers, manufacturers and consultants, using her architecture, design and project management skills.
Subpod has become a second family for Mar, and she loves working here and living in Byron. Keep an eye out for her surfing at Wategos or getting lost in nature somewhere in her camping-ready four wheel drive! Keep kicking goals Mar!
We hope you enjoy these insights into some of the strong and inspiring women who help guide the Subpod ship. We want to take this opportunity to wish everyone around the world a Happy International Women's Day! We see you, we appreciate you and we value you!
Grow with Subpod.
Worm farm compost systems that get you back to nature.