Recent stories from our Composting Community!
Our community is what makes us special. After all, Subpod doesn't really make compost – people do! Subpod is just how they do it.
Over 60,000 beautiful strangers now compost with Subpod around the world, from all walks of life. They're the real face of Subpod, a reminder that whether you're a hobby gardener or an ex-professional boxer – we all eat, so we should all compost!
---
Laila Ali, Ex-Professional Boxer
Is your fear of worms holding you back from composting? Turns out you have something in common with ex-professional boxer Laila Ali (Muhammad Ali's daughter). Of course, it probably didn't help that when she was setting up her Subpod, instead of ordering the usual 2,000 worms, she accidentally ordered 20,000!
Fear is a funny thing, isn't it? Throughout her career as a boxer, Laila squared up against and often defeated some of the most serious boxers of the time. But during a live video she hosted while getting her worms ready, she had her fair share of moments of squeamishness.
It just shows that bravery isn't a lack of fear – it's the ability to push through fear. She was already a boxing champion, but despite her initial fears, now she's officially a compost champion too!
"I decided to start this garden and realized that I need to make compost. So I ordered a Subpod because a friend of mine, Mignonnette (who has been gardening for years), ordered one and told me about it. Then she told me she ordered worms and where to order them. So I, of course, go ahead and get them. Even though I'm scared of bugs, I get worms, and I don't want to handle them. But I'm like, you know what, I'm about to do this. 'Cause this is what I gotta do. I gotta make my own compost."
---
Dom from @domslittlegarden
Dom is a prolific gardener and runs her own gardening account on Instagram – but she only started growing two years ago. The first time she saw a compost system was a few years ago, and it was a massive pile out the back of her friend's house on their large block of land.
She thought there was no way she'd ever be able to compost in her small yard, but she started experimenting with small above ground bins, and eventually found Subpod.
Now, she's a complete compost advocate! We recently interviewed Dom in one of our Compost Week events, and she spoke about her experiences composting with Subpod – and how composting can be life-changing.
"Composting has changed my outlook on my food waste and even my food intake, it has led to more healthy, mindful and eco-friendly decisions in our home each day."
---
Ginger Zee, Chief Meteorologist at ABC
We're huge fans of Ginger Zee, and that's not just because she seems to be a huge fan of us. Ginger was one of our biggest supporters in the beginning, taking the time to film a segment with Good Morning America all about installing her Subpod!
We also interviewed Ginger in the past for an episode of The Subpodcast, when we spoke to her about her experience as a storm chaser, the changing climate and her suburban garden patch.
"We could reduce billions of tonnes of greenhouse gas emissions, if we just got rid of our food waste."
---
Jim Chapman, content creator and writer
If you watched much YouTube between 2010 - 2015, you probably know who Jim Chapman is. For a while, he was one of the biggest British vloggers around! While he still makes the odd video, these days he's living a bit more of a quiet lifestyle – writing, editing for British GQ and raising his baby daughter, Margot. And composting, too!
We were recently spotted in Jim's Instagram story by one of our own followers, and we're excited to say that he agreed to do a little compost Q&A with us. Here's a little snippet from that interview:
Q. How has composting impacted your daily life?
A. It kind of hasn't, which is the beauty of it. I have a tiny caddy next to my sink that I put my food waste in, and when it's full, I take it into the garden. Once in a while, I aerate the compost, to make sure there's enough air circulating, but I quite like checking in on my worms. It's really very simple. I love the science of it, so watching it rot away between visits and having a family of worms in my garden is great fun!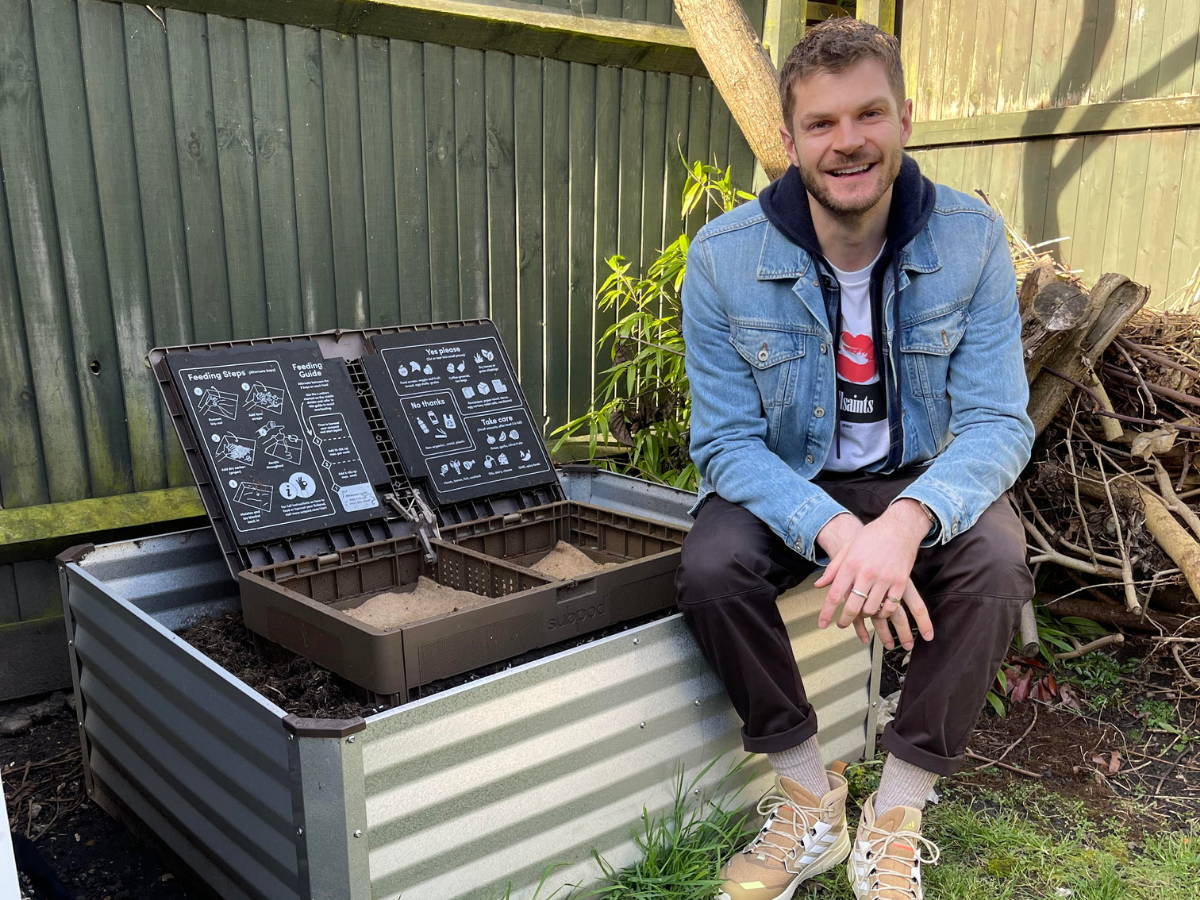 Haven't got a Subpod yet?
Check out our easy to use compost systems!